Gary Huang – Figure Seller Summit 4.0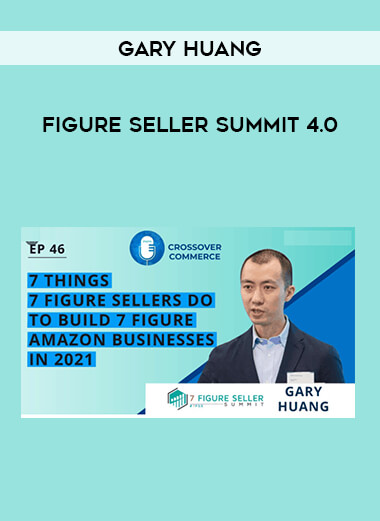 Salepage : Gary Huang – Figure Seller Summit 4.0
Courses Content
7 Figure Seller Summit 4.0 – Discover how 30+ 7 Figure Sellers Built, Scaled, and Exited their e-commerce businesses so you can do it too.
Learn how to Navigate the ecommerce Perfect Storm of logistics challenges, high shipping prices, and Amazon inventory restrictions to win in Q4.
SURROUND YOURSELF with thousands of like-minded e-commerce entrepreneurs around the world and level up your e-commerce and Amazon business TODAY!
Unlike other online events, the 7 Figure Seller Summit (7FSS) was established in 2018 and has a proven track record of helping thousands of e-commerce entrepreneurs around the world level up their e-commerce businesses.
This year given the impact to COVID-19, e-commerce could be the silver lining as sales continue to grow online while offline retail struggles to gain traction.
7 Figure Seller Summit was awarded favorite Amazon conference/event of 2020 in Sellerpoll.com and over 3500 people viewed from all over the world and featured in Forbes.
The format of the 7FSS is structured like a course. We cover the 5 phases of how an e-commerce business grows and scales.
Each day we will focus on ONE STRATEGY and get several different perspectives from 7 Figure Sellers and e-commerce experts so you learn MULTIPLE WAYS to approach a strategy to decide which one is the best for you.
Then at the end of each day we will have a LIVE RECAP and Q&A Session with special guest speakers. So you can get your questions answered live to get unstuck and move your business forward!
7 Figure Seller Summit 4.0 will be in 5 phases
Day 1: The Mindset and Fundamentals
Many wantrepreneurs FAIL right out the gates because they lack the MINDSET of a successful entrepreneur.
While others may give up or never even start, you'll discover how these successful entrepreneurs find ways around excuses, overcome their mistakes, take calculated risks, and pull the trigger to move their businesses forward during challenging times.
Also you will learn the Fundamentals of choosing profitable products, keyword research, finding trustworthy suppliers, as well quality control and certification to prevent your product from getting suspended.
You also will learn about selling on the Walmart marketplace to diversify your sales on the second largest online marketplace right now.
Day 2: Marketing and Branding
Creating a brand is like BRINGING A GUN TO A KNIFEFIGHT.
Discover how to drive traffic and market your brands through Amazon Sponsored Products, Sponsored Brands, Social Media… without wasting your time spinning your wheels. We bring the experts to show you how they are doing it right now with tremendous results.
Also find out how to protect your brand from IP theft and Amazon suspensions.
Day 3: Scaling To 7 Figures
Scale your business to 7 figures through proven strategies to get more reviews on Amazon in 2020, Advanced strategies how to hire VAs and build a remote team, and how to grow to international marketplaces in Europe, Japan, and India…
Also diversify your revenue to wholesale and retail stores…just one nugget could grow your business exponentially.
Day 4: PROFITABILITY: So you can keep more money in your pocket
Discover the profit secrets of the top 10% of 7 Figure Sellers, how to avoid the most common mistakes that leave your hard earned money on the table, and specific ways to cut costs so you can survive and thrive.
We will turn over the rocks so you can discover how to optimize your shipping, storage, and fulfillment as you scale… àd even increase your profitability while selling LESS!
Day 5: Exits and Selling Your Business
Did you know over 50% of a sellers' income will come from selling their business? But it takes careful strategy to prepare and maximize that Exit.
You will learn from real sellers as they share their REAL STORIES how they built their businesses to sell, how to maximize your selling price and increase your multiplier, what NOT to do that can turn off potential buyers and leave money on the table.
Author
Gary Huang – Figure Seller Summit 4.0
More Courses From : Gary Huang – Figure Seller Summit 4.0