The Reaper EA v1.99 [Original Cost 499$] + Unlimited Access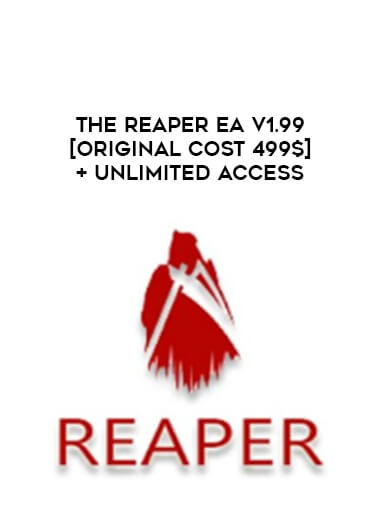 Salepage : The Reaper EA v1.99 [Original Cost 499$] + Unlimited Access
Courses Content
How to set up the EA:
-It is important for the AutoGMT to work correctly to add this URL "https://www.worldtimeserver.com/" to the list of allowed URLs in the menu 'Tools -> Options -> Expert Advisors'  BEFORE you launch the EA
-Run on M5 only.  Run on all pairs a seperate chart OR run all pairs from 1 chart using the OneChartSetup (download OneChartSetup set, EURUSD M5 recommended)
-Optimized for 14 pairs: eurusd, gbpusd, usdchf, usdjpy, usdcad, eurjpy, eurgbp, eurchf, eurcad, euraud, gbpaud, gbpcad, gbpchf and audcad
-It is recommended to run all these pairs to spread the risk.
-It is recommended to use "Mode B" as it will be more stable on most brokers.
-Mode B is more strict in entry, and uses a slightly wider Stoploss to prevent stop-outs due to spread widening.
-Mode A has lower Stoploss and more trades, and can have very good results on brokers with a very low nightly spread.
-I would recommend using "LotsizeStep" as AutolotMode. (automatic money management)
-LotsizeStep values ->  Low risk: 500; Medium Risk: 250; High Risk: 150
-It is recommended to run the EA on a low spread ECN broker.
-Minimum recommended accountsize: 250$ for running all 14 pairs, but you could run only a few pairs on 100$ as well.
Some of the features of the EA:
-IMPORTANT: This EA only enters trades for 2 hours per day, from 1 hour before rollover, till 1 hour after rollover.  For most brokers, that means from 23h marketwatch, till 1h.
-The EA uses limit orders to enter trades.  Slippage will mostly be positive on entry with this method.
-The EA uses hard SL and TP levels, to minimize negative slippage on exit.
-The EA will only open 1 trade per pair.
-The EA uses multiple exit strategies, where it will limit the risk as time passes and the trades hasn't hit TP yet.
-Safety first: this EA does NOT use grid, martingale, averaging down or any other risky trade management methods.
-Real live results for many months already before the EA was released on MQL5.
T-he product is already in a very advanced state of development (bug-free, performance verified)
-EA has been live tested on multiple brokers with success.
-No set files needed.  Only the Lotsize needs to be set.
Author
The Reaper EA v1.99 [Original Cost 499$] + Unlimited Access
More Courses From : The Reaper EA v1.99 [Original Cost 499$] + Unlimited Access